Luxembourg July 9th, 2014 - CIRCL presented its independent hardware solution, CIRCLean, yesterday afternoon at the Technoport Belval.
CIRCLean is an innovative hardware that enables to clean documents from untrusted USB keys. The device also converts automatically untrusted documents into a readable format on a clean USB key.
"We have decided to make this technology available as a free software, ready for use and for commercialization. It is also highly customizable in terms of design and packaging. Besides, this device does not require any technical prerequisites of any kind and can be used by all. The code runs on a Raspberry Pi - a small hardware device. This also means that it is not required to plug or open the original USB key on a computer. CIRCLean can be seen as kind of air gap between the untrusted USB key and your operational computer", explains Raphael Vinot, from CIRCL.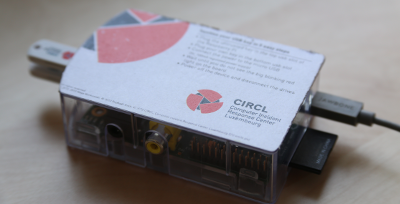 USB sticks are regularly used to distribute malicious payload in various file formats to infect victims. USB sticks are also a common vector of infection, and as an example a study1 shows that lost USB keys have a 66% chance of malware infection. The same study revealed that two-thirds of 50 USB keys bought at a major Lost Property auction in the USA were infected with malware. Worse, they also uncovered information about the former owners of the devices, their family, friends and colleagues.
Presentations:
For more information on how to use it, please go to: http://circl.lu/projects/CIRCLean/
If you would like to get hold of this free technology, contact us: info@circl.lu
The Computer Incident Response Center Luxembourg (CIRCL) is a government-driven initiative designed to provide a systematic response facility to computer security threats and incidents.